Program Francophonie 2021
This year again, despite a difficult health situation due to the Covid-19 pandemic and the many uncertainties that result from it, events are planned to celebrate the Francophonie in Cyprus! events will take place until the end of June, some online in compliance with health regulations.
Every year, during the Francophonie month, the French Institute of Cyprus in collaboration with the Ministry of Education, Culture, Sport and Youth and the Ministry of Foreign Affairs of the Republic of Cyprus, their many partners and the French speaking embassies members of the International Organisation of La Francophonie, organizes numerous events: conferences, concerts, exhibitions, film festival, school competition, etc.
Cinema
IFcinéma celebrates the Francophonie
From the 10th of March to the 10th of April. Offered by the Institut français, IF Cinéma à la carte brings together a different selection of French and African short and feature films each month. From March 10 to April 10, 2021, a special Francophonie cycle is available free of charge and without registration. Streaming IF Cinéma à la carte.
Le Grand Soir (The Big Night)
Friday 19 March - 7:00pm - Rialto Theatre, Limassol. The Embassy of Switzerland in cooperation with the Alliance Française de Limassol pays homage to one of its leading film directors, Francis Reusser (1942-2020) and presents his classic film, Le Grand Soir, winner of the Locarno Golden Leopard award in 1976.
Free entrance. Limited number of seats, reservation required: www.rialto.com.cy / tel 77 77 77 45
A recently restored version by Cinémathèque suisse – the national film archive of Switzerland.
Director: Francis Reusser (Switzerland, 1976, 95', o.v. French with English subtitles)
Actors: Niels Arestrup, Jacqueline Parent, Arnold Walter
Synopsis: Léon works as a security guard in Lausanne. One evening on one of his rounds, in the underground of a building, he discovers a group of Leninist activists. He develops some feelings for the kind of action claimed by them and for the charm of Léa…
The Embassy of Switzerland would like to inform you that the Rialto Theatre, having followed the health regulations, has already reached the numerus clausus of 50 persons for the screening of this film.
Pause
Saturday 27 March - 10:45 pm - RIK. This film is proposed by the Ministry of Education, Culture, Sport and Youth and the Ministry of Foreign Affairs of the Republic of Cyprus.
Director: Tonia Mishali (Cyprus, 2018, 96', o.v. Greek with French subtitles)
Actors: Stella Fyrogeni, Andreas Vasiliou, Popi Avraam
Synopsis: Elpida, a middle aged housewife trapped in the misery of an oppressive marriage, begins to lose touch with reality as she finds refuge in a fantasy world of sexual liberation and vindictive violence.

Angelo
Thurday 27 Mai (the exact time will be communicated later) - Back yard of Artos Foundation (64 Agion Omologiton Avenue, Agion Omologiton, Nicosia 1080). This film is proposed by the Embassy of Austria.
Director: Markus Schleinzer (Austria, Luxembourg, 2018, 111', o.v. French and German with English subtitles)
Actors: Makita Samba, Alba Rohrwacher, Lukas Miko
Synopsis: In early 18th century an African slave boy is chosen by a European Comtesse to be baptized and educated. Reaching adulthood, Angelo achieves prominence and becomes the Viennese court mascot until he decides to secretly marry a white woman.
Francophone Film Festival of Greece
From the 6th to the 14th of April - Online. Broadcast of around forty recent French-language films with Greek subtitles.
The Francophone Film Festival invites film lovers from all over Greece and Cyprus on a virtual journey into the world of the 7th Art, through a rich program of screenings and meetings with the creators of French and Francophone films.
The 21st Francophone Film Festival of Greece now invites the public to subscribe to the festival's newsletter, in order to receive announcements and daily screening programs https://www.ifg.gr/fr/news/newsletter -festival-du-film-francophone-greece /
From the 17th to the 23rd of June - Some of these films could be screened outdoor at Konstantia cinema in Nicosia (15 Solonos Michailidi, Palliouritissa) and in Limassol, if the sanitary situation allows it.
Street Quest "Nicosia in French"
Saturday 20 March - Registration 9:30-11:30 am. Organized by the French Institute of Cyprus, in collaboration with Nicosia Street Quest, the club Orientaction club - Orienteering in Cyprus and the CVAR.
This Street Quest will consist of finding French words in old Nicosia. Individual or group activity, open to all but more particularly to young people and families.
Whether you are alone, in group or with your children, you will find what you are looking for: walking around, paying attention to these words in French that dot the old town of Nicosia and rediscovering the historic center from a new angle: that of Francophonie !
The questions will be available in Greek, French and English so that as many people as possible can participate.
You can register the same day at CVAR (285 Ermou Str. 1017 Nicosia) and start the race immediately, between 9:30 am and 11:30 am. Free registration.
Three categories:
Individual
Groups (from 2 to 4 adults)
Families (with children)
The winners will be rewarded with baskets filled with French gastronomic products.
Hand sanitizer will be available during registration and social distancing rules must be respected. Masks are compulsory.
For more information: This email address is being protected from spambots. You need JavaScript enabled to view it. or call 22 45 93 33.
Depending on the evolution of the health crisis and the vagaries of the weather, this event may be postponed later. Stay informed on the website of the French Institute of Cyprus.
Rules & tips
Thanks to our sponsors


Linguistic
Quiz for high school students
Organized by the French Institute of Cyprus, in collaboration with the APPF (Panchypriote Association of French Teachers). This quiz is composed of 25 questions in a wide variety of fields, such as music, sport and gastronomy. Test your knowledge of the Francophonie cultures while having fun!
Registration is open until April 2, 2021. Then, a draw will take place among the best scores to designate the winners of the quiz, who will receive rewards: digital tablets, books in French, free subscriptions to Culturethèque, the digital media library of the French Institute. To participate, it's very simple ! All you have to do is to complete and validate the quiz available at the following address: https://forms.gle/PukFmySeqeRkZz539
C
Quiz for French teachers
Ce quizz organisé en lien avec l'émission phare de TV Monde « Destination Francophonie » prendra la forme d'un petit concours et permettra de découvrir une francophonie vivante aux quatre coins du monde.
Discussion. La Francophonie : un atout pour la création artistique ?
À l'occasion de la Semaine de la langue française et de la Francophonie, l'Alliance Française de Paris met à l'honneur et interroge la création artistique francophone contemporaine : que signifie être un artiste francophone en 2021 ? Que veut dire créer en langue française ?
Rendez-vous le samedi 20 mars à 18h30 (heure de Paris) pour une discussion entre Ivan Kabacoff, présentateur de l'émission Destination Francophonie sur TV5Monde, et des invités d'horizons artistiques différents. Ensemble, ils échangeront sur leurs parcours, leur processus créatif, leur rapport à la langue française et répondront à vos questions.
Les invités :
Miguel Bonnefoy. Auteur né en 1986 d'une mère vénézuélienne et d'un père chilien, Miguel Bonnefoy écrit dans la langue de ses études : le français. En 2009 il remporte le Grand Prix de la Nouvelle de la Sorbonne avec La Maison et le Voleur, et est finaliste du Prix Goncourt du premier roman en 2015 avec Le Voyage d'Octavio. Il a également été professeur pour l'Alliance française de Caracas.
Hassane Kassi Kouyaté. Né en 1963 au Burkina Faso et descendant d'une famille de griots, Hassane Kassi Kouyaté est notamment metteur en scène, conteur, comédien et musicien. Il est également l'initiateur et le directeur artistique de la compagnie Deux Temps Trois Mouvements et de Yeleen, un festival international du conte. Très impliqué sur la scène artistique francophone, il a été nommé directeur des Francophonies - Des écritures à la scène en 2019.
Rayannah. Artiste franco-manitobaine basée à Winnipeg, Rayannah est une auteure-compositrice- interprète. En 2019 elle reçoit le prix de l'artiste francophone de l'année lors des Western Canadian Music Awards pour son album "Nos repaires", devenant ainsi l'une des premières artistes à recevoir cet honneur. Sa voix singulière et son univers électro-soul ont conquis le public canadien et européen.
Pour s'inscrire en ligne ? cliquez ici.
Training for French teachers: La classe inversée
Tuesday 16 March - 16h30 - 19h30 - online (Zoom). Organized by the Department of French and European Studies of the University of Cyprus offers, with the support of the French Institute of Cyprus.It will be led by Sylvaine Gautier, TV5 Monde certified trainer and FLE teacher at the University of Cyprus.
Content of the training. Online registration before the 10th of March via this form: https://forms.gle/N3rGaDck9NY4sQ919
Lecture
Tracing French scholars in Cyprus
Monday 29 march - 7:00pm - online (Zoom). Lecture by archaeologist and art historian Anna Marangou, organized by the Association of French and French-speaking Universities of Cyprus (ADUFF).
At the end of the 19th and the beginning of the 20th century, French historians and intellectuals, such Louis de Mas Latrie, Camille Enlart and Jean Richard, on their way to the Latin East, stop in Cyprus and study the medieval history of the island, closely linked to the Kingdom of Lusignan. Their writings and the valuable published volumes remain to this day an important source of knowledge of the history and culture of Cyprus.
In French with instant translation in Greek.
Join Zoom Meeting : https://ucy.zoom.us/j/93950458732?pwd=S0t3RFQxMmZJWFc4NFRJNjZIY0gwZz09 - Meeting ID: 939 5045 8732 - Passcode: 650943
Gastronomy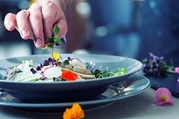 Culinary Competition
Wednesday 31 March - 15:00 pm - HHIC. Competition with the theme: «Gourmet menu with local products» organized by the Higher Hotel Institute Cyprus (HHIC) in the framework of Francophonie Season 2021.The competition is aimed at culinary arts students attending the Professional French course.
Certificates of participation will be given and Air tickets to France await the winning team!
The chef of the Residence of the Ambassador of France will be part of the jury and identify the candidates who have the best knowledge of cooking and French!
For the first year of organization (2021) this culinary competition is open only to HHIC students. Rules.
Submission of application until Friday, 19.03.2021 at the email address: This email address is being protected from spambots. You need JavaScript enabled to view it.
With the support of the French Institute of Cyprus.
Concert of classical music
"Douce France"
Thursday 8 April - 8:30 pm - Theatre of Nicosia (Pafos Gate, Rigainis and Arsinois corner, 1010 Nicosia) and Friday 9 April - 8:30 pm - Markideio Municipal Theatre of Paphos (Andrea Geroudi 27, 8010 Paphos). Number of seats limited to 50 in line with the Covid-19 applicable rules.
Offered by the Cyprus Symphony Orchestra.
The programme includes the works of Wolfgang Amadeus Mozart, Symphony No.31, K.297 (Paris) - Arthur Honegger, Pastorale d'été, H.31 - Carl Maria von Weber, Concertino in E flat major, Op.26 - Charles Gounod, Symphony No.1 in D major.
Solist: Angelos Angelides (clarinette) - Chonductor: Patrick Gallois
Tickets: €12, €7 (18-26 yrs and pensioners), €5 (under 18) - Online: cyso.interticket.com
For the concert in Lefkosia, tickets are also available at the Pallas Theatre Box Office every Wednesday 16:00-19:00 and at the theatre box offices on the concert day. Tel.: 22 41 01 81
Information: 22 46 31 44 - www.cyso.org.cy
TV5 Monde
Meeting with Ivan Kabacoff
Thursday 8 April - 7:30 - 8:30 pm (Cyprus time). Meeting on Zoom with Ivan Kabacoff, the presenter of the TV program "Destination Francophonie" for French teachers and anyone interested.
Guided tour of Anoyira village
Date postponed. Wine tasting organized by the Alliance français de Limassol. Booking: 25 87 77 84 - This email address is being protected from spambots. You need JavaScript enabled to view it.

Petanque tournament
Sunday 6 June - 10:00 am - Dassoudi Brach. Organized by the Alliance français de Limassol. Registration: 25 87 77 84 - This email address is being protected from spambots. You need JavaScript enabled to view it.
Concert of the Jeunesses Musicales for the Francophonie
September (exact date, time and place to be determined). Organized by the Alliance français de Limassol, in collaboration with the Embassy of Lebanon and the French Institute of Cyprus. Entrance free.