Espace Campus France
The Campus France Office is at your service for information and enrolment at:
| | |
| --- | --- |
| Monday | 9:00-15:00 |
| Tuesday | 9:00-18:00 |
| Wednesday | 9:00-15:00 |
| Thursday | 9:00-18:00 |
| Friday | 9:00-14:00 |

French higher studies
The quality of higher education in France is the result of long-term and continuous political vision. This policy has enabled France to provide students with one of the best systems of higher education in the world and, above all, one of the most accessible. French universities and Grandes Ecoles offer high-quality training without imposing unaffordable tuition and fees.
So what more are you waiting for? All of the training provided in French universities is associated with accredited research laboratories and the expertise of experienced professors. Regardless of what you are studying, in France, you will always be alongside committed experts.

French version - γαλλική έκδοση
C'est en étudiant en France que j'ai réalisé mon rêve !
Campus France lance une nouvelle campagne internationale de communication, et donne la parole à ceux qui ont fait le choix de la France pour leurs études.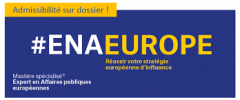 French version - γαλλική έκδοση
Cette formation proposée par l'ENA (Ecole Nationale d'Administration) permet de se spécialiser afin d'exercer une activité professionnelle dans le domaine des affaires publiques, en lien avec l'Union européenne (suivi des politiques publiques de l'UE et interaction avec les décideurs européens).
Dépôt des candidatures jusqu'au 31 mai 2019. INFO
Subcategories