Education Fairs coming soon
The Campus France office of the French Institute of Cyprus will be present at the education fairs of Limassol and Larnaka. The team will be at the disposal of students and of their parents to answer all their questions about the higher education opportunities offered by France (universities, business and engineering schools, specialized schools, programs in English ....).
LIMASSOL
The Limassol Province Education Fair, organized under the auspices of the Ministry of Education, Culture, Sport and Youth, by the Limassol Federation of Parents Associations of Secondary Education will take place on Sunday 3rd November 2019 from 2:00pm to 8:00pm at the TRACASOL Centre (Warehouses, Kioproulouzate, Limassol).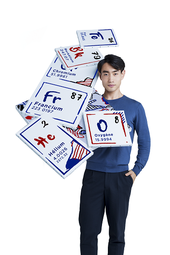 LARNAKA
The larnaka Education Fair, organised by the Parents' Association of Secondary and Technical Schools, will take place on Sunday 24th November from 10:00am to 6:00pm at Lordos Beach Hotel (Dhekelia Rd, Larnaca 7081).