Buffer Fringe 2022
The French Institute of Cyprus takes part to the 9th edition of the Buffer Fringe Performing Arts Festival with the performance of the Cie Inflexions "As we drove short short lines". Saturday October 8 at the Teatro Polis OPAP. Programme.
The performance is presented in tandem with another performance by the Greek company Die Wolke art group.
First part: "Poetics of Space" by Die Wolke art group at 6:30pm

Second part: "As We Drove Short Short Horizon Lines" at 7:45pm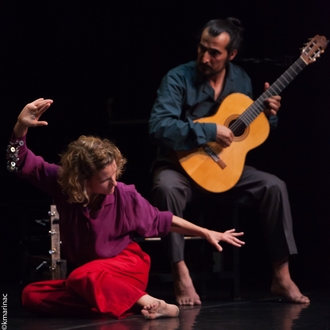 Claire Huber: Choreographer and poet
Stalin Blake - Nastasja Stefanič - Zdravka Ivandija Kirigin - Emmanuel Desmyter - France Morin
About the performance: The starting point for this piece were the asymmetrical rhythms found in the Balkans all the way to the Middle East. Fascinating rhythms since they articulate diversity instead of blending it, the rhythms that are bridging two different logics: the time that is counted and the time that is modulated. On a long trajectory that departs in Kurdish lands, goes through the Balkans all the way to Western Europe and back again, we drive melodic lines. Melodic lines that materialize through words, movements and sounds.