Theater workshop for children from 5 to 11 years old!
Every Monday 4:45-6:00 p.m. in Nicosia, Entos twn texnwn (Aischylou 29 street, 1011). Courses, organized by the Yasemin collective, take place in French. Free first trial lesson. Info/registration: 99 44 80 34 - This email address is being protected from spambots. You need JavaScript enabled to view it.. Registration are opened until the end of November.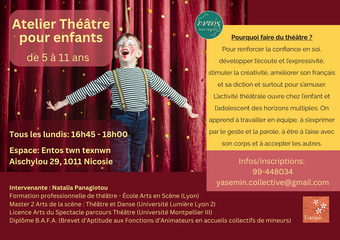 Why to go on stage ?
To strengthen self-confidence, develop listening and expressiveness, stimulate creativity, improve your French and your diction and above all to have fun. Theatrical activity opens up multiple horizons for children. You learn to work in a team, to express yourself through gesture and speech, to be comfortable with your body and to accept others.
In this weekly course, we offer playful exercises, games, theatrical techniques and in a second step, we build characters, stories and we play on stage using costumes, accessories, masks and sets. The group gets involved in a collective creation with a show at the end of the year, according to the wish of the participants.
​
Teacher: Natalia Panagiotou
Professional theater training - Arts en Scène School (Lyon)
Master 2 Performing Arts: Theater and Dance (University Lumière Lyon 2)
Performing Arts Licence Degree in Theater (Montpellier III University)
B.A.F.A. diploma (Certificate of Aptitude for the Functions of Animators in collective reception of minors)