Francophone Film Festival of Greece
From the 6th to the 14th of April.

The 21st French-speaking film festival of Greece offers its Greek and Cypriot audiences the opportunity to take a cinematographic journey through the French-speaking world: with these films, we will cross borders to go to work in Belgium or explore the Large Hadron Collider at CERN. We will dream of the world that extends outside the Innu community, in Greater Quebec, or we will cross the seas in search of a better tomorrow. We will travel back in time to witness a dry summer in the life of a young teenager.
opening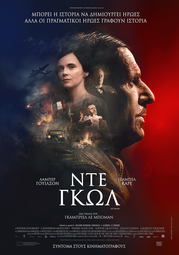 For the Opening Ceremony which took place on Tuesday April 6 at 9:00 p.m., the big event was the film De Gaulle, which brings us back to the last days before the General's departure for England and the famous Appeal of June 18, was broadcasted, followed by a discussion with director Gabriel Le Bomin and Lambert Wilson, protagonist of the film.
The film can be viewed independently of the Opening Ceremony and at the time you wish. You can now buy tickets for all films and sections of the Festival: la Compétition, le Panorama, les Programmes Jeunesse, la Carte Blanche au Champs-Élysées Film Festival and, of course, the tribute to France-Grèce : regards cinématographiques croisés.
All films have an access price of € 3, with the exception of those of the Competition, accessible at a price of € 4. Until Thursday April 8, a limited number of packages for different sections of the Festival are on sale at a promotional price. Packages are available until the available quotas are exhausted.
Packages
Les 17 films du Panorama, pour seulement 43€ au lieu de 51€.
Les 8 films de la Rétrospective pour seulement 20€ au lieu de 24€.
Les 3 programmes de la Carte Blanche pour seulement 7,5€ au lieu de 9€.
Les 3 programmes Jeunesse pour seulement 7,5€ au lieu de 9€.
You need help ? A question ?
Please refer to the Guide pratique du Festival and informations billetterie.
For technical questions you can conract vthe assistance spectateurs in Greek or in English, oor send a mail to the team of the Festival on Facebook oor on Instagram.