Antámossi: reunion, in Greek.
The long-awaited moment of reunion with the public has finally arrived!
The French Institute of Cyprus is pleased to invite you to a Francophone film week from July 3 to 9, 2021 as part of the Francophonie Season 2021. Six films, subtitled in Greek and having been shown online in April as part of the Francophone Film Festival of Greece from which the Cypriot audience was able to benefit for the first time, will be screened outdoors on widescreen at the Constantia cinema in Palouriotissa (Solonos Michailidi 15, Palouriotissa, Nicosie).
The Embassy of Switzerland, ​​partner of the Francophonie, will also screen a film with English subtitles during this week organized in collaboration with the association Friends of Cinema and the Cultural Services of the Ministry of Education and Culture of the Republic of Cyprus.
Hour: 9:00pm. Entrance free. Wearing a mask is compulsory. No reservation but the number of spectators is limited to 100.

Constantia Open-air cinema Nicosia
Notre Dame
Date: Saturday 3 July
Director: Valérie Donzelli (2019 / France, Belgique / 88')
Actors: Valérie Donzelli, Pierre Deladonchamps, Thomas Scimeca
Synopsis: Maud Crayon, a failing architect and single mom of two, whose weak ex-husband is still in the picture, can only dream of a miracle to shake things up. Now the famous winner of the contest to lead the renovation of the esplanade of Notre-Dame de Paris, Maud welcomes back in her life her charming ex-boyfriend Bacchus, and must reveal her feelings to both her exes if she wants to start living happily ever after.
Burning Ghost (Vif-argent)
Date: Sunday 4 July
Director: Stéphane Batut (2019 / France,104')
Actors: Thimotée Robart, Judith Chemla, Saadia Bentaïeb
Synopsis: Juste wanders the streets of Paris looking for people only he can see. He collects their last memory before helping them into the afterlife. One day Agathe, a young woman, recognizes him. She belongs to his previous life. She is alive and he is a ghost. How will they manage to love each other and seize this second chance?
The Girl with a Bracelet (La Fille au bracelet)
Date: Monday 5 July
Director: Stéphane Demoustier (2019 / France, 95')
Actors: Melissa Guers, Roschdy Zem, Chiara Mastroianni
Synopsis: 16 years-old Lise is accused of murdering her best friend. Her parents stand by her as naturally expected. But once in court, her secret life begins to unfold and the plot thickens. Who is Lise really? Do we really know the ones we love?

Calamity, a childhood of Martha Jane Canary (animation film)
Date: Tuesday 6 July
Director: Rémi Chayé (2020 / France, 88')
Actors: Salomé Boulven, Alexandra Lamy, Alexis Tomassian
Synopsis: 1863, Martha Jane Cannary, her father, and her sisters, are traveling with a caravan across the American West to Oregon. When her father is injured by their horse, she feels compelled to step up and take responsibility for their family's carriage. However, the leader of their group, Abraham, assigns his son Ethan to take over for Martha's father instead. Conflict ensues between Martha and Ethan as she fights to break free of the gender role assigned to her, while he struggles to earn his father's approval. Martha decides to secretly spends her nights training to lasso and ride a horse, and making pants for herself—something that was taboo since women were expected to wear dresses and skirts.
The Dazzled (Les Eblouis)
Date: Wednesday 7 July
Director: Sarah Suco (2019 / France, 89')
Actors: Camille Cottin, Jean-Pierre Darroussin, Eric Caravaca
Synopsis: Camille, 12, passionate about circus, is the eldest of a large family. One day, her parents enter a religious community based on sharing and solidarity in which they fully invest. The girl must accept a way of living that questions her desires and her own torments. Gradually, indoctrination becomes sectarian. Camille will have to fight to assert her freedom and save her brothers and sisters.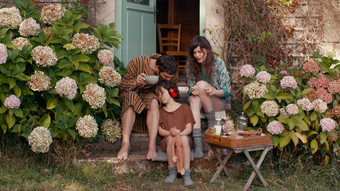 Felicità

Date: Thursday 8 July
Director: Bruno Merle (2020 / France / 82')
Actors: Pio Marmai, Rita Merle, Camille Rutherford
Synopsis: For Tim and Chloe, happiness is day-to-day and unattached. But tomorrow summer ends. Their daughter, Tommy, is going back to school and this year, they promise, she won't miss that big date.
With the wind (Le vent qui tourne)
This film is proposed by the Embassy of Switzerland in Cyprus
Date: Friday 9 July
Director: Bettina Oberli (2018 / Switzerland, France, Belgium / 86')
Actors: Mélanie Thierry, Pierre Deladonchamps, Nuno Lopes
Synopsis: An isolated farm in a remote part of the Jura region: this is where Pauline and Alex are making their dream of living in complete self-sufficient harmony with nature come true. Their life project is sealed with their love, their ideals and their work. The couple is now ready to take the step towards total independence and start producing their own electricity...